26 juillet 2014
Bonjour,
Je voulais partager une petit recette de l'Est. A vrai dire niveau nourriture je suis difficile et ici la cuisine est vraiment différente... Donc quand je trouve une bonne recette je ne la laisse pas passer ! :)
Simple, rapide et sain, bien que se soit cuit dans l'huile.
Pour moins de 10 pancakes il faut :
1 demi courgette, 1 œuf, 2 cuillères à soupe de farine, sel & poivre, huile pour la cuisson
Epluchez et râpez la demi courgette puis mélangez le tout. Faites chauffer un fond d'huile dans la poêle.
Avec une petit cuillère poser des pâtés dans la poêle et applatissez-les, attendez quelques minutes puis retournez les pancakes.
A déguster seul ou avec du fromage blanc ! :)))))
J'étais sceptique mais le goût est vraiment bon (si on aime la courgette)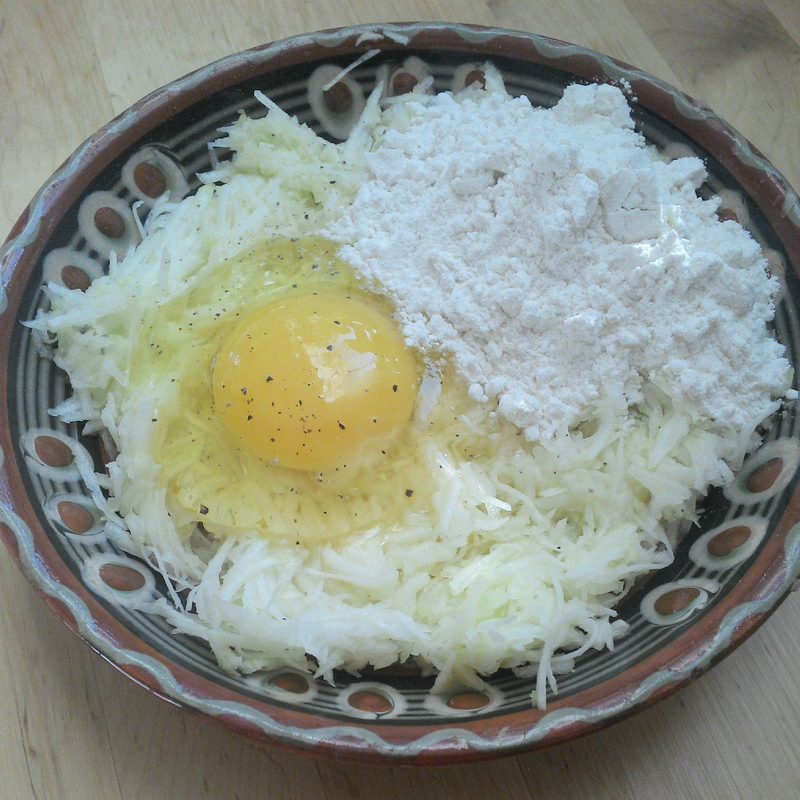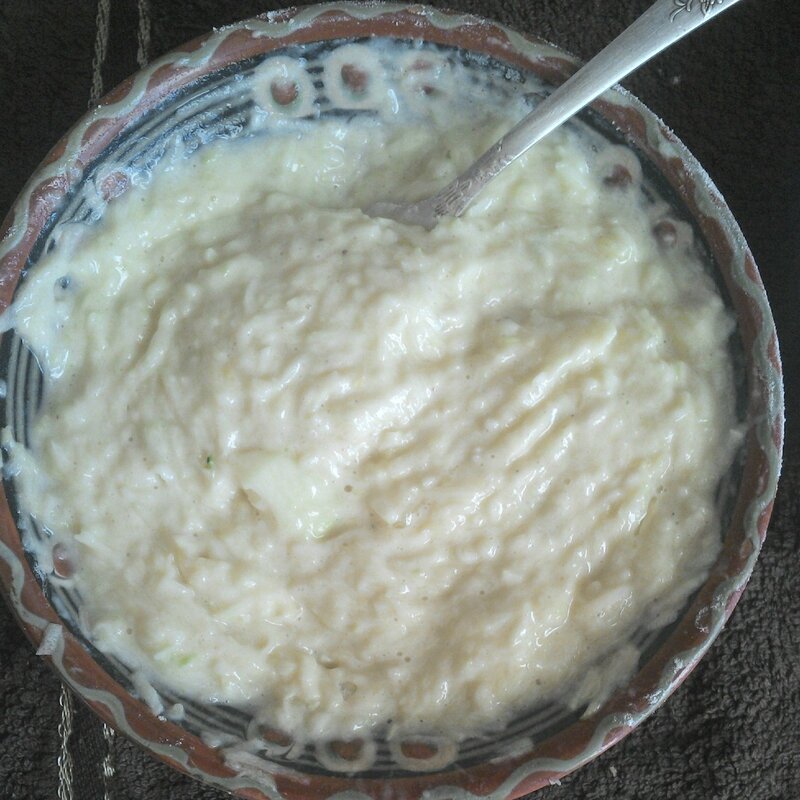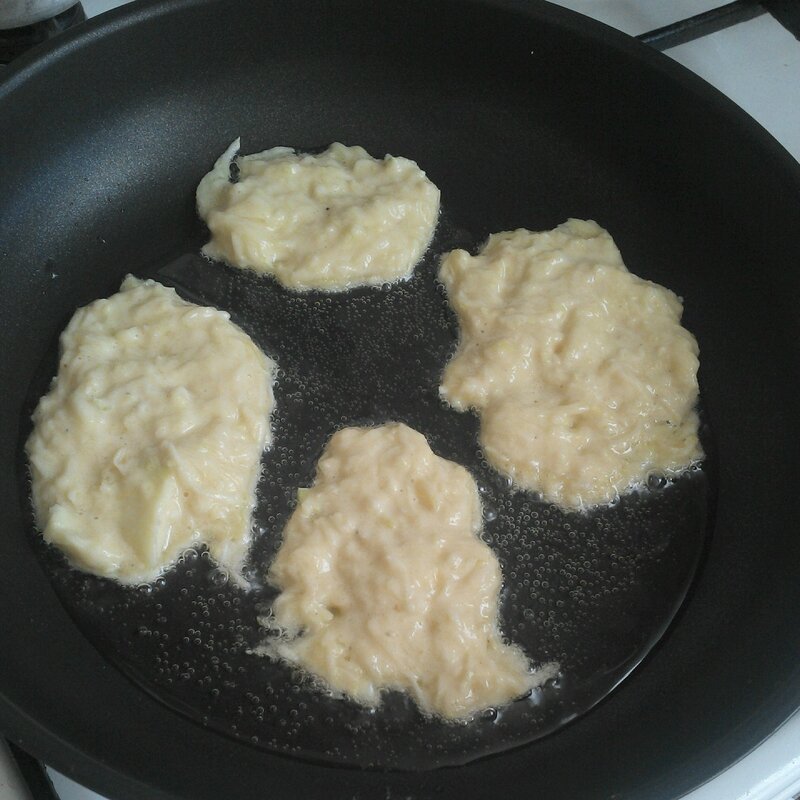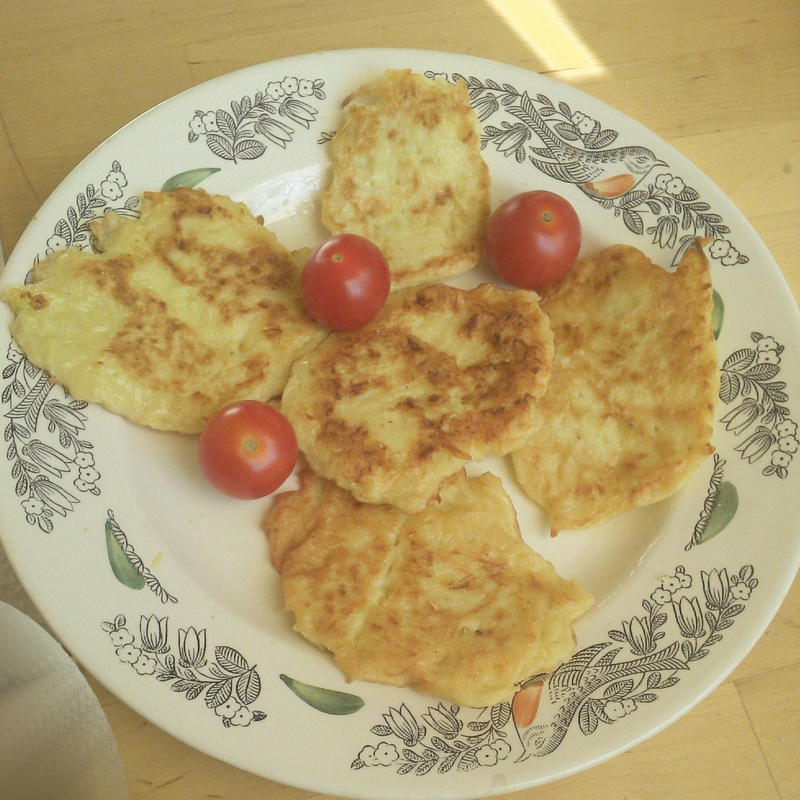 Hiiii !
I wanted to share a little recipe from the East. Actually I'm difficult to satisfy with food and the the cuisine is really different here ... So when I find a good recipe I don't let it go! :)

Simple, quick and healthy, although it is cooked in oil.
For less than 10 pancakes you need :
1 half zucchini, 1 egg, 2 tablespoons flour, salt & pepper, oil for cooking
Peel and grate half zucchini then stir/mix well. Heat a little oil in the pan.
With a teaspoon do blocks in the pan and flatten them, wait a few minutes and then turn the pancake.
Serve alone or with cottage cheese! :)))))
I was skeptical but the taste is really good (if you like zucchini)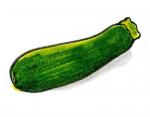 20 juillet 2014
Bonjour,
L'été n'est pas encore fini mais l'automne se prépare ! Depuis déjà 4 mois :)
"Matin d'automne" de Madame la fée
J'ai un problème avec la tête de l'écureuil, sa forme ne me plait pas... alors pour l'instant c'est un écureuil sans tête !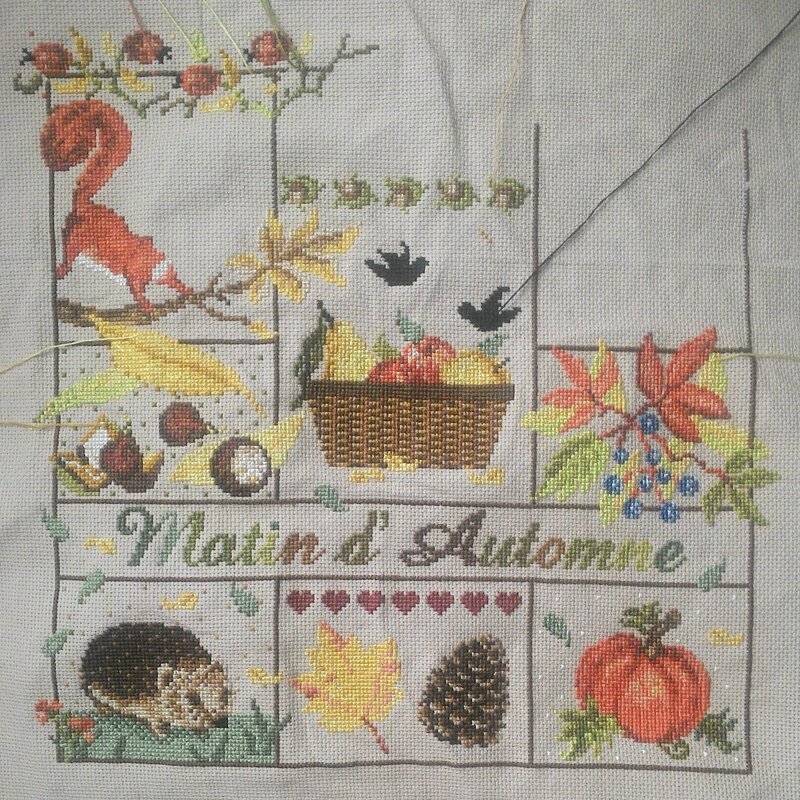 J'ai pris beaucoup de plaisir à broder la citrouille, c'est d'ailleurs mon carré préféfé !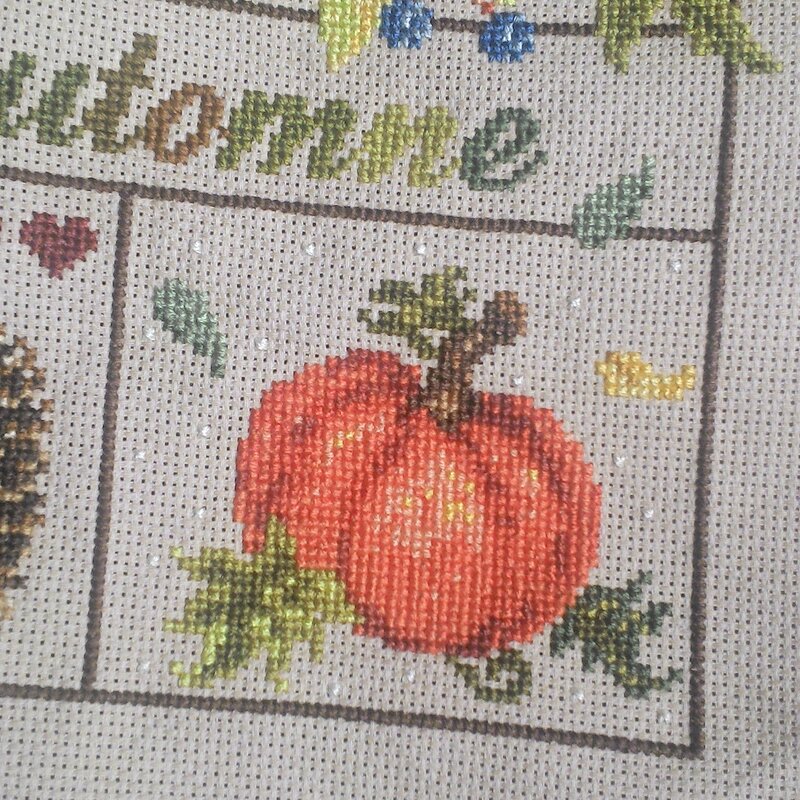 Je la trouve sensas'
Hi,
Here is my stitching progress of the 'Autumn morning' from Madame la fée.
It's 4 months of progress, and I'm loving this pattern ! Even if I meet a problem with the shape of the squirrel head, I want to change it but still didn't find the time.
My favorite square is the one with the pumpkin, but you may had already guessed it :)
Have a good sunday / Bon dimanche à tous !
07 janvier 2014
Bonjour,
Depuis Max j'enchaîne des petites broderies pas trop compliquées et plutôt rapide ! Les voici :
Since Max I do only little simple embroideries quite fast to do ! here they are :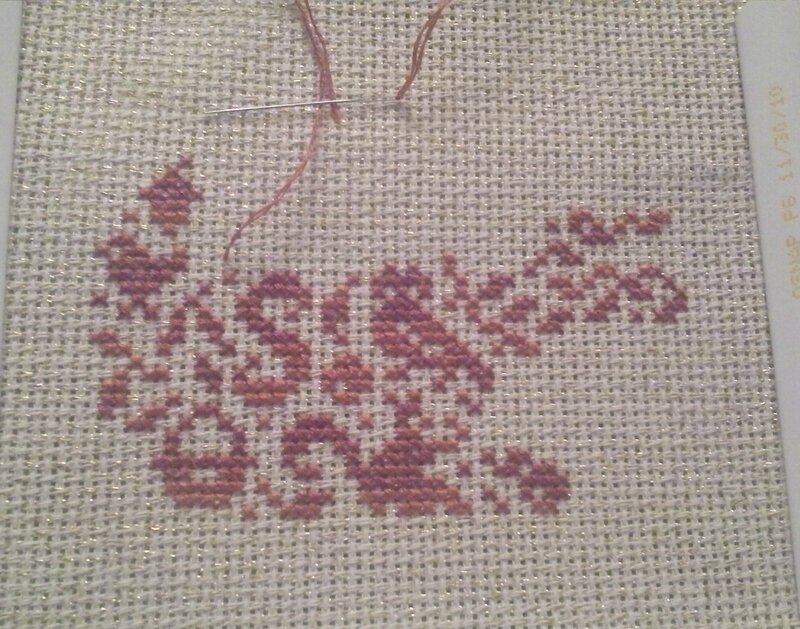 Ecureuil J&B sur un toile aida à paillettes / J&B squirrel on a glittery aida canvas
qui va prochainement devenir une housse de coussin / which will soon become a cushion cover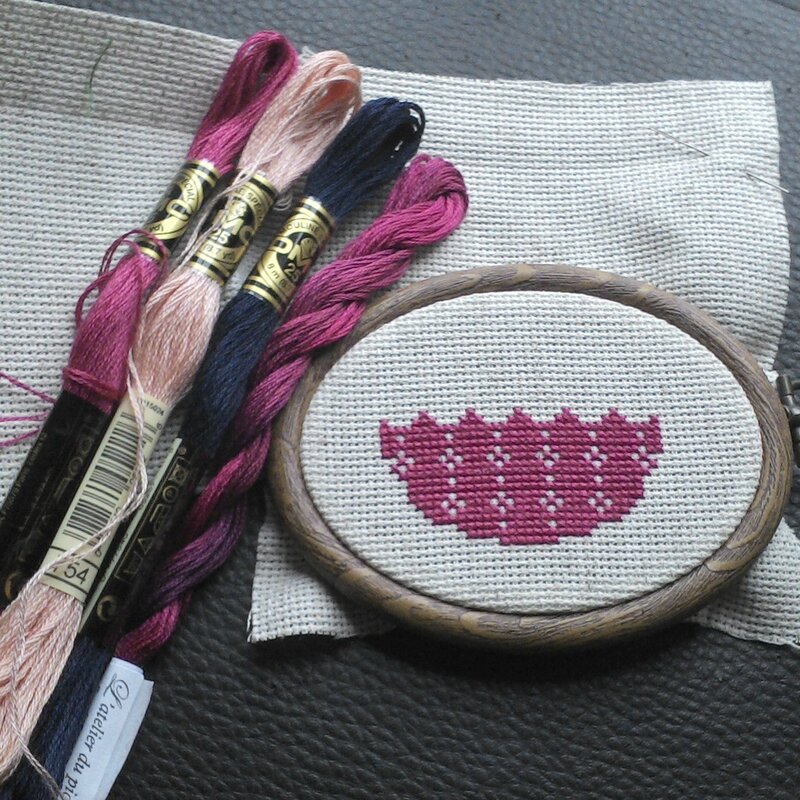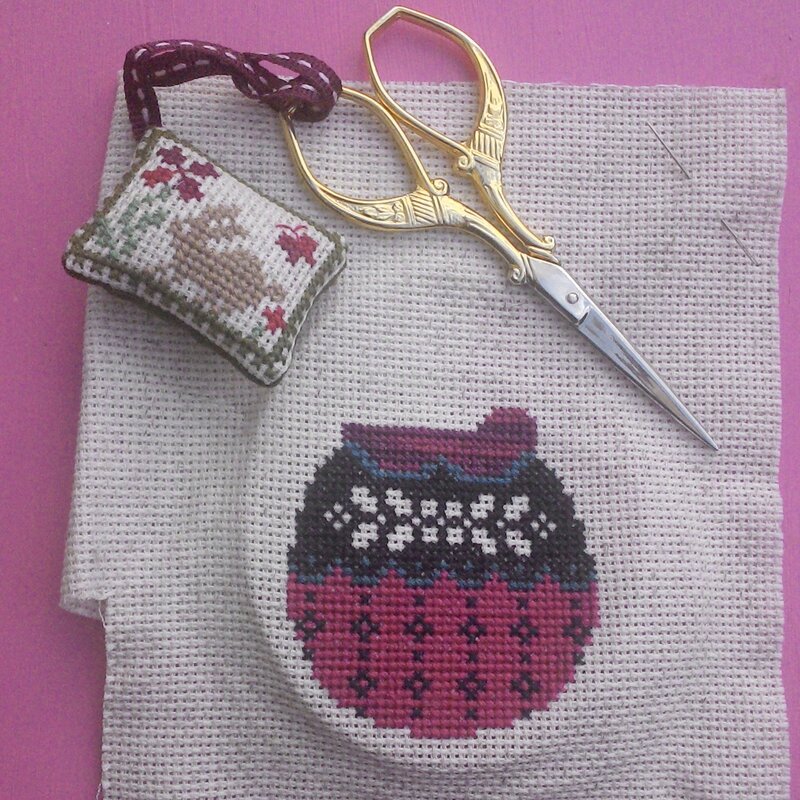 Une petite matriochka sur toile aida 7 beige et grise / A little matriochka on a 7 aida canvas beige and grey
Vous avez certainement remarqué que j'aime les fils qui changent de couleurs (évolutifs) et les paillettes ;)
You certainly noticed that I like threads with evolutive color and glitters ;)

03 janvier 2014
Bonjour,
Tout d'abord, d'après ma mère il porte chance de commencer une nouvelle broderie le 1er de l'année. J'ai donc adhéré à sa croyance/tradition et ai commencé une petite broderie de tête de chat en une couleur. DMC 154 sur une toile étamine à paillettes.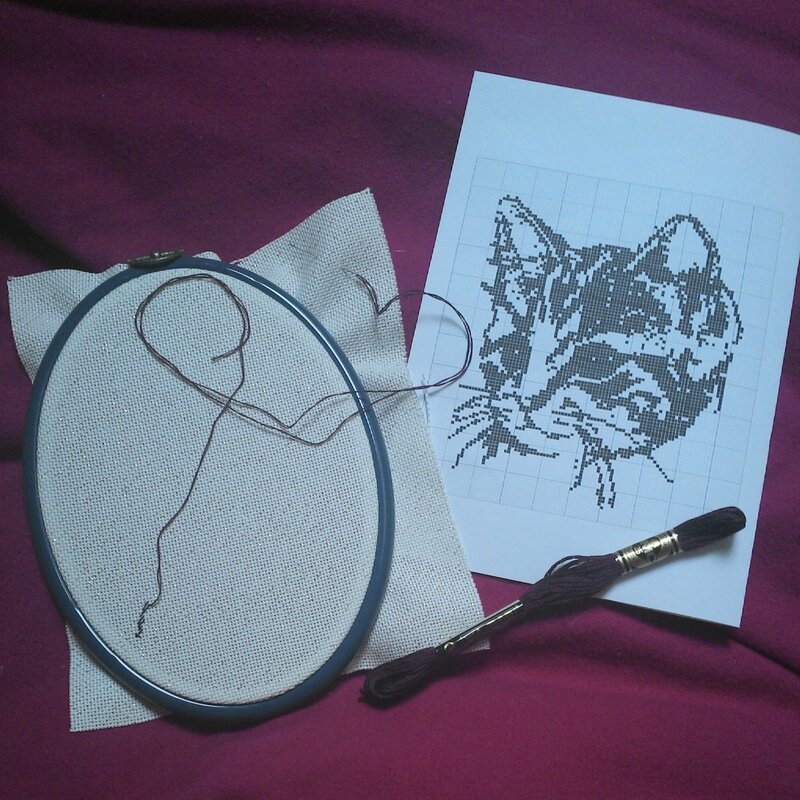 At first, according to my mom, starting a new embroidery/cross stich at the 1st day of the year will give you luck. So I started a new cross stitch of cat with one color. DMC 154 on a glittery etamine canvas.
____________________________________________________________________
Lors d'un destockage j'avais trouvé un tissu vert mousse avec des lapins, puis en me baladant sur internet j'ai trouvé une grille gratuite pour coussin de ciseaux avec un lapin.
L'original était en nuances de bleu, j'ai donc adapté les couleurs et utilisé ce motif + le tissu lapin pour en faire mon premier mini coussin ! :)
Hormis les finitions ce n'est pas très difficile.
Lately I bought a green fabric with some rabbits, then I was chilling on internet when I found a free pattern of a scissors cushion with a rabbit. The original was with a gradient of blue, I changed the colors and used it + my green fabric for creating my first mini-pillow :)
Except the finishes it's not hard.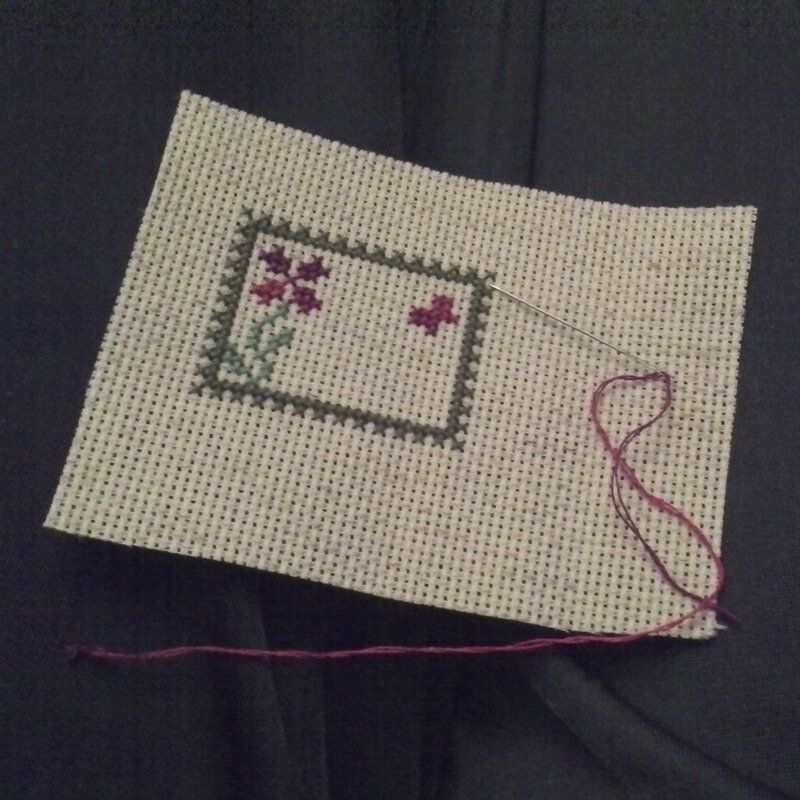 Effet timbre poste
Sélection du tissu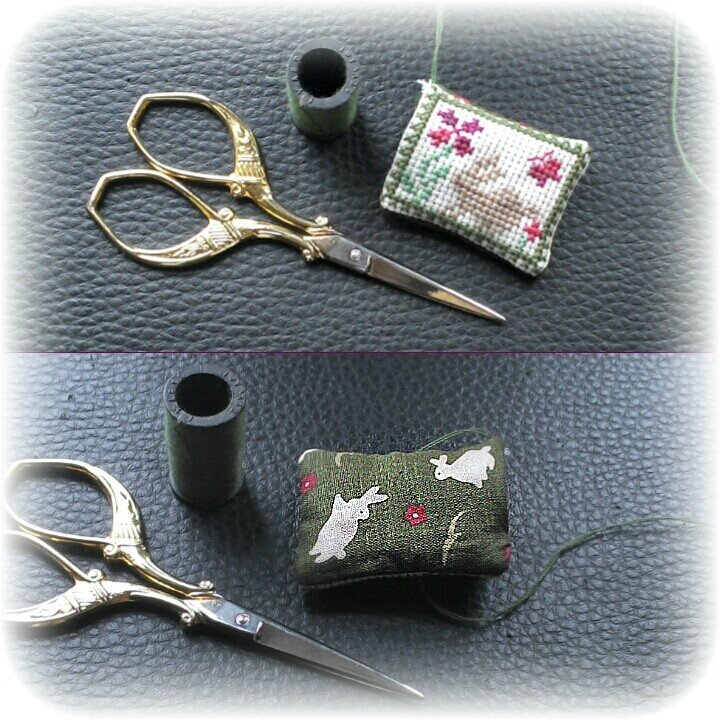 Mise en forme du coussin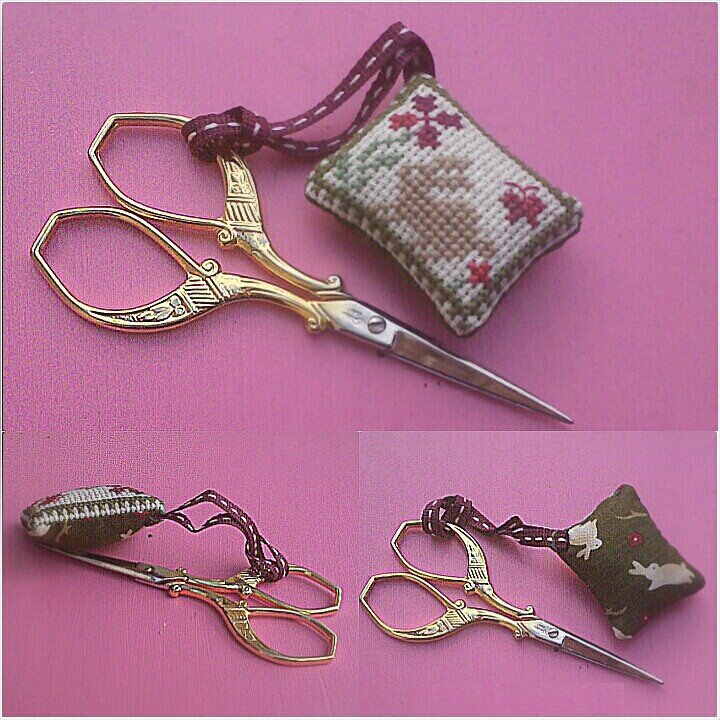 Bourrage et finitions ! (avec l'aide de mon experte)
La prochaine fois je m'attaque à un coussin plus gros !
Next time I will give a try on a bigger cushion !
28 décembre 2013
Bonjour,
Enfin finie et remontée je vous présente ma travailleuse !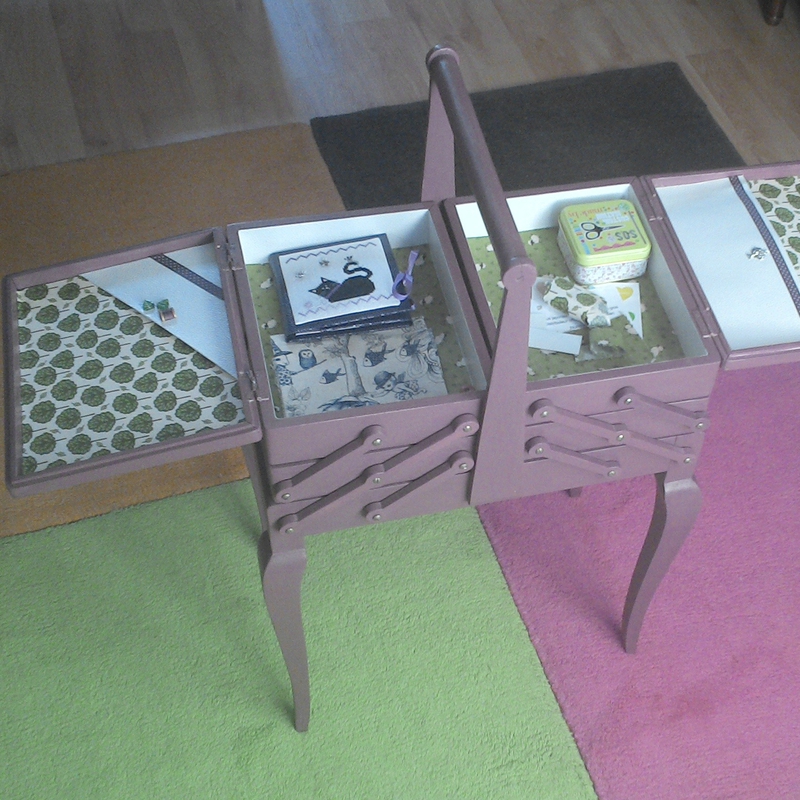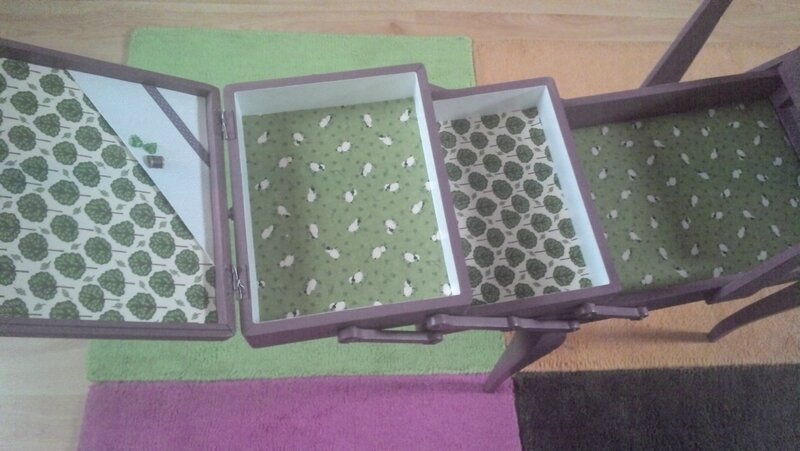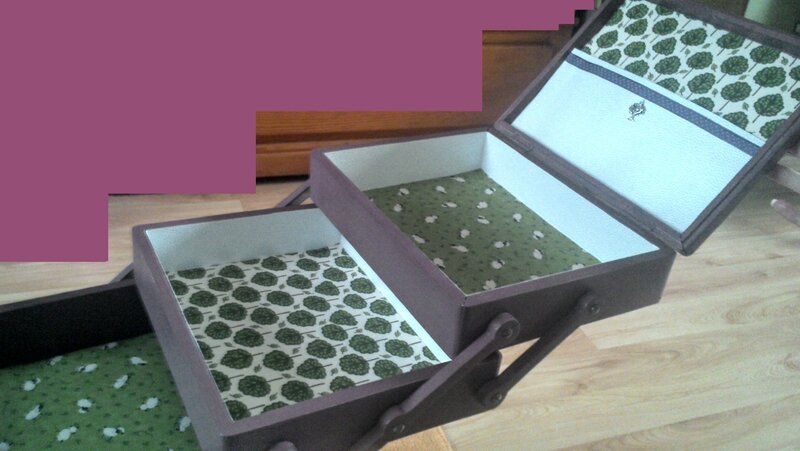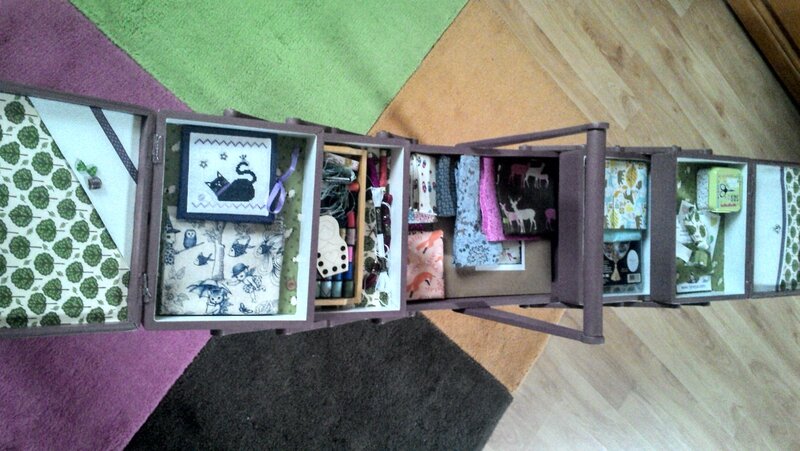 Aussitôt finie, aussitôt remplie !
:)